Windows Phone 7: syncing calendars between different devices
- 2 minutes read
- 295 words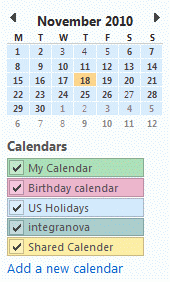 A couple of days ago, I bought some new Windows Phone 7 (WP7) devices for my wife and myself. I really love the new look & feel and the live tiles and hubs.One of the things I kind of struggled was the ability to sync calendars on both of the devices. After entering your Windows Live ID, you already get your contacts, email and calendar. However, only the primary calendar is synced to the device. I usually have several calendars in order to organize things. The screenshot on the right shows some of my calendars, whereas "My calendar" is set-up to be the primary.
My idea was to create a new calendar named "Shared Calendar" and share this with my wife. Well, this did not quite work out as expected because of the restriction that only the primary calendar can be synced with one single Windows Live ID.
After some investigation, I finally figured out how to accomplish this. I created a new Windows Live ID with a new primary calendar. I then added this new Windows Live ID (in addition to my original Windows Live ID) to my WP7 device. The sync options for this account allowed my to specify whether I want to sync only calendar, but also contacts and emails. So far so good. I then added the same Windows Live ID to my wife's device (in addition to her personal Windows Live ID) without any problems. So now, whenever I create a new event on my device, I can select the account (basically the Windows Live ID) where this event shall be posted.
The syncing between these two devices works just great and we now have not only a personal calendar but also a shared one for all our common events.